Business professionals and entrepreneurs tasked with finding their own business leads have utilized networking and leads groups for decades. However, with the quick turn that the coronavirus made in the business world, many businesses that relied on networking events were completely shut down. But where there is a will, there is a way.
4BR was Built to Help Small Businesses
Tammy Urbach started 4BR out of her own small business need to create financial planning customers. After a little more than 15 months of running both businesses she found her career passion was best helping others make connections and build their businesses. She turned to 4BR full time only 16 months after launching the concept. That passion for helping small businesses is also what prompted the quick switch to use Zoom meetings in March of 2020 for all 4BR events. "We moved virtual in advance of the government mandates on face to face gatherings due to the household diversity of our membership and not wanting to needlessly or unintentionally cause harm," said Urbach. She continued, "Zoom is working very well for us! It simply took forward-thinking combined with action to move all of our meetings online. We truly are working business as usual and continuing to gain new members."
Supporting Small Businesses During Coronavirus
As business professionals, networking is the lifeblood of continuing to work and make an income. The switch to virtual networking was seen as a necessity to support the 4BR groups. However, Urbach also felt the pressure to support her members in a time when normalcy was being craved. "I believe that we have been able to keep 4BR as a normal part of our member's routine and it is helpful to know that they have their 4BR community to rely upon when other things are so uncertain." said Urbach.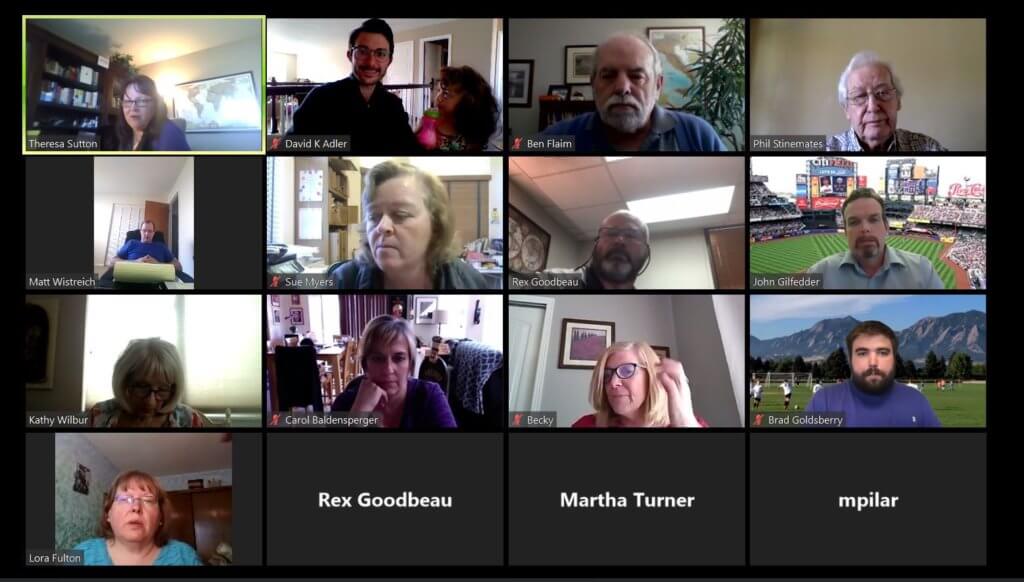 Photo description: All 4BR groups meet via Zoom at their standard networking time. The Westminster based 4BR group is pictured above at their May 4th meeting.
How 4BR Members Respond to Virtual Networking
The switch to virtual events seemed like a no brainer for many of the groups that have been running for 5-10 years. However, 2019 and 2020 were expansion years for 4BR with many new groups outside of their traditional North and NW Denver locales. It was worrisome that newer groups, like Parker, CO that launched in late 2019, would successfully make the switch to virtual without losing momentum. That was not the case at all!
"As a new business owner - and someone relatively new to Colorado - it was essential to connect with a networking group. What I love most about 4BR is that it goes well beyond referrals - and is really about relationships. Our Parker 4BR group has such amazing energy, encouragement, positive insight and an amazing genuine desire to see each other succeed both personally and professionally. I talk to members of 4BR every day - not just during meetings. For a solo-entrepreneur, I feel like I have a team, and that's pretty powerful stuff to keep motivation and success amped up. Our meetings are appropriately business casual meaning we certainly cover information and referrals for our respective businesses but it's also casual and lighthearted and supportive. Great ideas are exchanged - ideas about social media marketing, and other topics too. I'm not sure what I thought 4BR would be but it has blown me away with the value, the relationships, the structure, the consistency, the authenticity and the amazing support," said Deb Denker, Owner/Coach at Unlimited Fervor Coaching & Consulting
Her fellow Parker member Susan Alley of LegalShield agreed, " I am really making the best of this time with all the Zooms available and not having to travel. I have met some really great people and have done business with several people on both sides." But Alley has taken the Zoom meeting to the next level, "I have been getting on the other group meetings at least 3 to 4 per week, I am scheduled to a guest speaker at about 8 groups now and have had 12 one to one meetings."
4BR will return to in-person networking events when cities and locations open back up for group gatherings. However, for now, we are happily Zooming with each other and we are open to new members joining us.
Look at all of the current networking groups and join what works for you. Please RSVP on Meetup so that we know to expect you: https://www.meetup.com/4BR-Building-Better-Business-by-Referral/events/calendar/