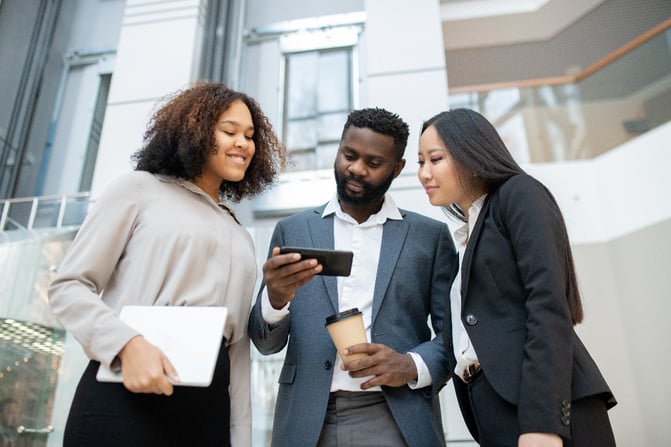 An estimated 4.6 billion people worldwide are on social media. If you're not leveraging your social media accounts to grow your business referral network, you're missing out on valuable prospective customers. Social media is your gateway to people and their communities.
Before you even meet, you can begin to establish a rapport. The key is finding, approaching, and establishing connections with people you already know, want to know, and should know. Taking advantage of the goldmine of opportunities on social media to grow your business referral network is essential to business growth. Here's everything you need to know to make the most of social media for your business.
The Benefits of Using Social Media to Expand Your Network
Social media exposes you instantly to a broad spectrum of people. You can exchange updates, progress reports, and ideas with people who might not have visited your website. People are on social media several times a day, making it an optimal forum to connect and grow your network.
How to Get Started
Create dedicated accounts for your business
Know what platform(s) your ideal customer base uses
Choose a priority platform
Build on the connections you already have
Here is some helpful info from HubSpot on a few popular social media platforms with both Business-to-Business (B2B) and Business-to-Consumer (B2C) details to consider:
Facebook
Users: 1.9+ billion
Audience: GenX and Millenials
Industry Impact: B2C
Best For: Brand awareness; advertising
Creating a business page allows you to connect with people interested in learning more about your work. With Facebook, you can create event pages, fundraisers, widgets, and access tools for countless other applications.
LinkedIn
Users: 774+ million
Audience: Baby Boomers, GenX, and Millenials
Industry Impact: B2B
Best For: B2B relationships, business development, and social selling
LinkedIn is where you will find like-minded business professionals with over 58 million registered companies. LinkedIn groups are a great way to network with industry professionals since it's specifically designed for professional networking.
Twitter
Users: 211 million
Audience: Primarily millennials
Industry Impact: B2B and B2C
Best For: Public relations, customer service, community building
Twitter is very fast-moving. Posts have the shortest shelf life of all social platforms. They're expanding their features to include an audio tool called Twitter Spaces, a community-building tool called Twitter Communities, and Twitter Moments to share exciting content.
Instagram
Users: 1+ billion
Audience: Primarily Millennials
Industry impact: B2C
Best for: High-quality images and videos; user-generated content; advertising
Over 2 million businesses are active on Instagram. This platform is ideal for sharing visually compelling content and building brand recognition. Live broadcasts allow you to connect with your communities instantly.
What Not to Do When Using Social Media for Your Business
When you're trying to leverage your connections and build your referral network, there are some things to avoid. Make sure you don't:
Confuse your business and personal accounts
Leave negative comments anywhere
Comment for the sake of commenting
Ignore comments on your posts
Sound too salesy
Forget your target audience
Share posts that are in poor taste
Best Practices for Connecting on Social Media
Here are some things you'll want to do to maximize your efforts:
Keep it professional by creating a business account
Use a professional headshot in your profile picture
Post regularly and share engaging and helpful content
Optimize your profile to inform others about your services
Engage with followers regularly
Treat controversial topics with respect
Add value by asking pertinent questions and providing insightful input
Publish your own material showcasing your knowledge
Join and be active in groups in mutually beneficial industries
Are you ready to expand your business? Then we'd love to hear from you. Contact us online or give us a call at (720) 422-6174.