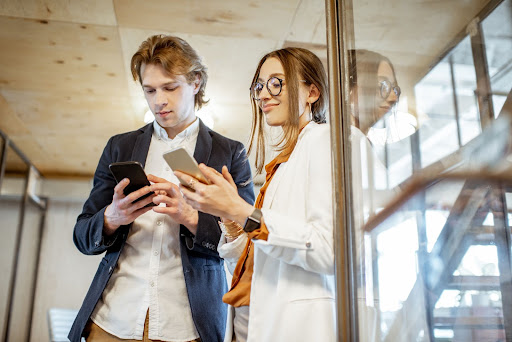 In our increasingly digital world where businesses are going paperless and everyone carries a smartphone, digital business cards are becoming more common. If you're thinking of ditching the paper business card, you might be wondering which digital business card is the best. Don't worry, we've got you covered. Here are the top four digital business cards we recommend for entrepreneurs, small businesses, and anyone looking to make in-person business networking easier:
HiHello
HiHello might be one of the most popular digital business cards available, and for good reason. It's easy to use and allows you to quickly create a digital business card within minutes.
One of the biggest worries people have when using a digital business card is that the people you're networking with and trying to get a business referral from won't be able to get your digital card if they don't have the same app. With HiHello, that's not an issue because you can share your digital business card via email, text, URL or QR code.
HiHello offers a free version, but you can upgrade to a paid plan that adds more features like bulk business card creation and analytics.
SwitchIt
Another popular digital business card option is SwitchIt. Like HiHello, SwitchIt lets you create digital business cards with contact details, images, and embedded videos. And you can share your card via email, text, or QR code.
SwitchIt can sync with calendar apps like Google, iCloud, and Microsoft Outlook; plus you can add and export contacts.
All of these features are available on the free version. But you can upgrade to the premium plan to add features like scanning business cards and syncing with HubSpot or Salesforce.
Blinq
Like Switchit and HiHello, Blinq also allows you to share your digital business card to your potential business referrals via email, text, or QR code. With the free version, you can track information like who has received your card, as well as where and when you met them.
Blinq has the most affordable paid version out of the four options we list here, at $2.99/month. The paid version gives you access to remove Blinq branding from your digital business card and add custom color themes and logos. You can also send your card through Blinq's servers to keep your email address and phone number private.
KadoNetwork
If you're looking for more than just the ability to create and share a digital business card, KadoNetwork might be a good fit because it's meant to work as an all-in-one networking app. KadoNetwork is designed to send, receive and organize digital cards, as well as organize your contact notes.
The app integrates with LinkedIn, email platforms, and digital calendars so you can look at everything in one place.
The free version of KadoNetwork allows for up to three users, which is more than enough for an individual entrepreneur looking to get business referrals. But a growing business would be better suited to the paid version, which allows for more users and more features.
In case you're wondering whether we recommend one digital business card app above all the rest, the answer is "No." Any one of these digital business cards will be a good tool for you to use for sharing your contact information and getting business referrals. Our best advice is to for you try the free version of all four and stick with the one you like best.

Once you've decided on a digital business card, or if you prefer the classic print card, join one of 4BR's business networking groups near you and show it off!