Welcome to Part 2 of our series on the impact of nonverbal communication on business relationships. If you read Part 1, you probably already understand the role nonverbal communication plays in your ability to make connections and get more business referrals.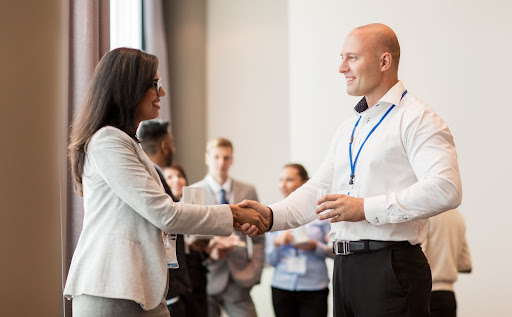 Sharpening your nonverbal cues and being able to read other people's cues is a skill you can use to your advantage at any stage of your career. The topics we covered were how you look, a good handshake, posture, and hand gestures. Here in Part 2 of the series, we'll cover these next elements of nonverbal communication:
1. Facial Expressions
One of the most noticeable and crucial forms of nonverbal communication is your facial expressions. What you say with your face can have a huge impact on what you way with your words. Facial expressions are closely tied to emotions, so they're often involuntary and unconscious. You can't fake a genuine smile, so don't try it. Instead, focus on the person you're speaking with and try to form a real connection with them. The smile will come naturally, and you'll have a better chance of building a strong business relationship.
2. Eye Contact
Maintaining eye contact shows that you're paying attention to the person you're speaking with. Looking off to the side generally tells them you're distracted or disinterested in what they're saying. Of course, staring into their eyes for too long can get uncomfortable. So give your eyes a break once in a while and look up or down at their chin.
3. Tone of Voice
It's not what you say, it's how you say it. When you speak, does your voice sound friendly and personable, or is it intimidating? Your tone is an extremely important part of your overall communication. In fact, a study found that doctors who used the wrong tone of voice got sued more often. While you probably won't get sued for using the wrong tone in a business networking group, it might make it harder to build business relationships. To avoid miscommunication, pay attention to your tone and make sure it matches up with the words you're saying.
4. Personal Space
Has anyone ever stood just a little too close to you? There's some disagreement on how close you can be to someone before you're invading their personal space. It's different for everyone, so it's best to be at a distance that's comfortable for you and pay attention to their body language. If they seem like they might be squeamish, give them more space.
It may seem complicated and easy to overthink these elements, especially in the middle of a conversation. But with a little practice, good nonverbal communication will come naturally. A good place to practice these nonverbal communication tips is at a professional networking group. Find a group near you and join 4BR's community of professionals.