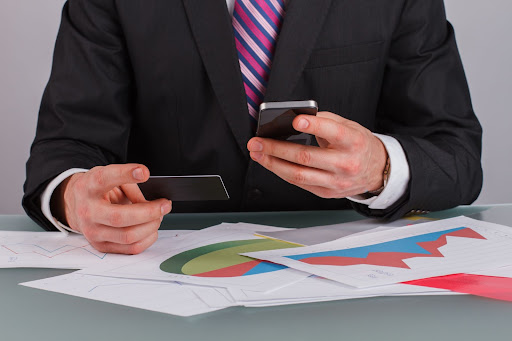 Networking with the right people is essential, and the success of your business often depends on it. So the fact that you've gone out and attended an in-person business networking event is great. You've met with potential clients to discuss an upcoming project, or you've engaged with other professionals in your field to establish connections and pitch your business. And importantly, you've exchanged business cards. Now that the business networking event is finished, what do you do with the stack of business cards you've accumulated? Organizing and keeping track of your connections is one of the many ways you can expand your reach with small business groups.
Gone are the days of filing those business cards into a rolodex. Address books have all gone digital, and manually entering all those contacts into your smartphone takes too much of your valuable time. Fortunately, there are several scanner apps for your smartphone that can organize those business cards and log all their contact information with just a push of a button. Here are six of our favorite business card scanner apps that make digitizing your referral contact information a snap.
CamCard
CamCard is a quick, accurate business card scanner that can process business cards in multiple languages, including English, Spanish, Chinese, Japanese, and more. You can take a snapshot of a business card with your smartphone, and CamCard will parse the information and allow you to make corrections as needed. You can integrate CamCard with CRMs like SalesForce and SugarCRM, as well as Google Contacts, Outlook, and Excel. It even has a batch mode where you can snap pictures of business cards one after another. It's speedy and simple. Best of all, CamCard offers a free version with full functionality but limits you to 200 contacts. The paid version allows unlimited contacts.
Wantedly People
If you find yourself routinely dealing with stacks of business cards, scanning them individually can get very time-consuming very fast. You need a card scanning app that lets you scan a lot of cards at once in a single snapshot. That's where Wantedly People comes in. With Wantedly People, you can take a picture of up to ten business cards at once, and the app will scan and store data about each card as individual contacts. Just like with CamCard, you can edit each contact to correct scan errors. Best of all, it's free. But there is a payoff: The more cards you scan in a single picture, the lower the quality of the scan and the more likely there will be data errors for you to correct. Some users have found that eight business cards in a single image hits the sweet spot between quality and quantity in a scan.
ScanBizCards
Much like CamCard, ScanBizCards gives you the ability to scan business cards, edit the captured data and save them as new contacts. The main difference is that ScanBizCards is mostly geared toward businesses and other organizations. You get unlimited business card scans with both the free and paid versions. The automatic transcription is accurate, plus you have the option to request manual transcription of business cards by another person. With the paid version, ScanBizCards integrates smoothly with CRMs like SalesForce and SugarCRM; you can export contacts as .CSV files, and there's even support for Evernote and other third-party apps.
There are many more good business card scanning apps to help you get the most out of your business networking groups. Some honorable mentions include Sansan, Haystack, and ABBYY. Some apps and services you already use can scan business cards as well, like Evernote, Microsoft Office Lens, and Google Lens. But their functionality can be limited compared to the dedicated apps we've mentioned above. Whichever app you choose, you'll have an easier time keeping in contact with those all-important business referrals. Join one of our professional networking groups and give one of those apps a test drive.